Top-Down Proteomics Training Course

The NRTDP is offering a Top-Down Proteomics Training Course. In this course you will gain practical knowledge of sample preparation, experimental setup, and data acquisition for Top-Down proteomics. You will also learn how to apply computational tools, software, and workflows for analysis of simple Top-Down proteomics data. This course strives to eliminate the gap between scientific description and implementation of Top-Down proteomics. The course is intended for career faculty, postdoctoral fellows and industry partners with prior experience in mass spectrometry.
Dates: November 11 – 14, 2019
Participants: 6-10 invited attendees
Cost: $1000 (academic) / $2000 (corporate)
Location: Silverman Hall, Northwestern University, 2170 Campus Drive, Evanston, IL, 60208
Phone: (847) 467-1076
Seminars Speakers: Neil L. Kelleher, Paul M. Thomas, Amanda E. Lee, Richard D. LeDuc, Ryan T. Fellers
Application Deadline: October 1, 2019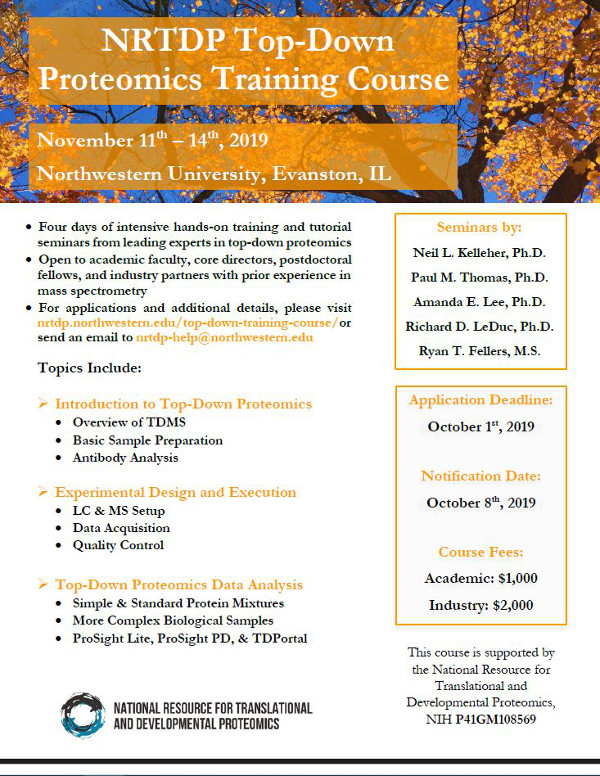 Top-Down Proteomics Course
Download the flyer as a PDF here!
Download 2017 Sample Itinerary (will change for November course) Download Course Application